Tiered classification system: what is it and why do we need it?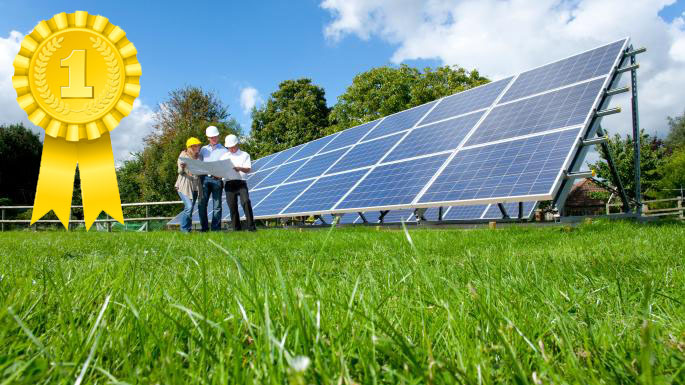 If you are thinking of buying your first solar panels (or smart blinds with built-in PV panels), you may be wondering what brand of panels is worth your trust, how long is it going to serve you and whether the manufacturer is going to stick to the warranty.
To answer these and other questions, a tiered classification system for manufacturers of solar panels was invented.
Tier-1
These companies are considered to be not less than 5 years on the market, have a full-cycle automated production and invest considerable sums of money into R&D and marketing. Solar panels made by these manufacturers are usually at least 20% more expensive than its competitors and is only about 2% of the market.
Tier-2
These manufacturers are a golden mean between Tier-1 and Tier-3. They account for about 8% of the solar panel market and have good prospects of reaching the highest level in this classification system. These companies are usually 3 to 5 years old and invest a lot into research and development, however, there is still a lot to be improved in the production.
Tier-3
The rest 80% of manufacturers don't invest in the production cycle of their own. They usually prefer to buy components for solar panels which they assemble, mostly manually. The level of automation often leaves a lot to be desired and the quality of the final product may significantly vary.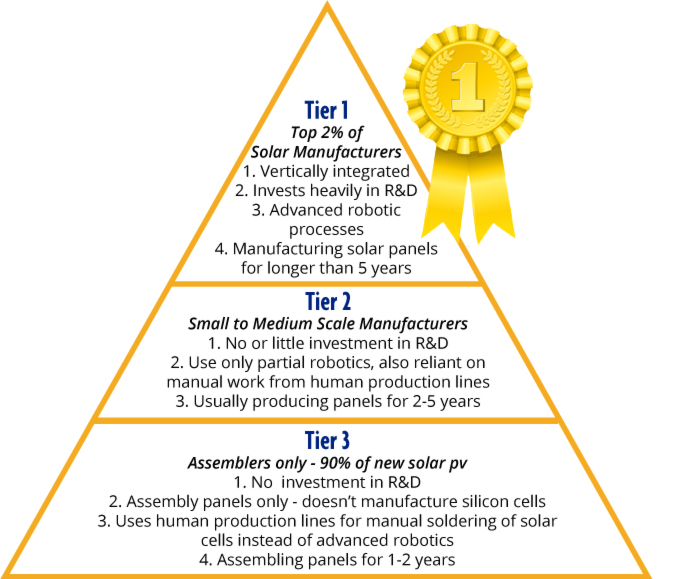 Unfortunately, it doesn't mean that if you buy solar panels from Tier 1 companies, you are guaranteed to get a high-quality product and that is why. The classification report is created by Bloomberg New Energy Finance, which means the companies are being accessed by their financial reliability rather than the quality of their products. That's how the Bloomberg New Energy Finance characterizes Tier-1 manufacturers:
"Tier 1 module manufacturers are those which have provided own-brand, own-manufacture products to six different projects, which have been financed non-recourse by six different (non-development) banks, in the past two years."
Since this classification system is based od bankability we should consider other factors that affect the quality of solar panels such as:
Production capacity or volume of products that can be produced by the solar panel manufacturer defines whether or not the company can meet the consumption.

Research & Development department defies the level of technologies that are used to produce solar panels and affects the level of competitiveness of the company.

After-sales service level such as efficient and timely support identifies the company's attitude both to the final consumers and distributors. 

Pricing is important but of course not the only factor to be considered due to its misleading character, i.e. high price doesn't always mean high quality.
As for us, we have chosen SunPower, the World's most efficient cell technology (22.4%) and the largest solar panel producer in the U.S. because we always choose what is best for our SolarGaps smart blinds. When it comes to solar panels manufacturers, we advise you to choose wisely and take into consideration all the important factors we have listed above.