HOW DOES SOLARGAPS WORK?
SolarGaps smart blinds are the first blinds that automatically track the sun and generate electricity from its energy while keeping your apartment or office cool. Installed on the outside of the building, our blinds will not only lower your power bills but also provide active shading to reduce air conditioning usage and consequently, reduce your carbon footprint.
The two main features, photovoltaic energy generation, and smart shading are combined together to achieve the best economic effect, i.e. you will save both on your electricity bill and reduce the operational costs on air conditioning up to 30%.
How does it work? SolarGaps is an all-in-one solution. Simply plug it in and the solar energy will charge your devices connected to the electrical grid, thus, reducing power usage from external electricity providers. If you have an emergency battery storage, you can also connect it to the SolarGaps system and use the solar-powered energy whenever you need it. Only 1 small window of around 1 sqm with our SolarGaps facade blinds can reduce electricity usage for 100 Watts per hour.
Still have questions? Visit our FAQ page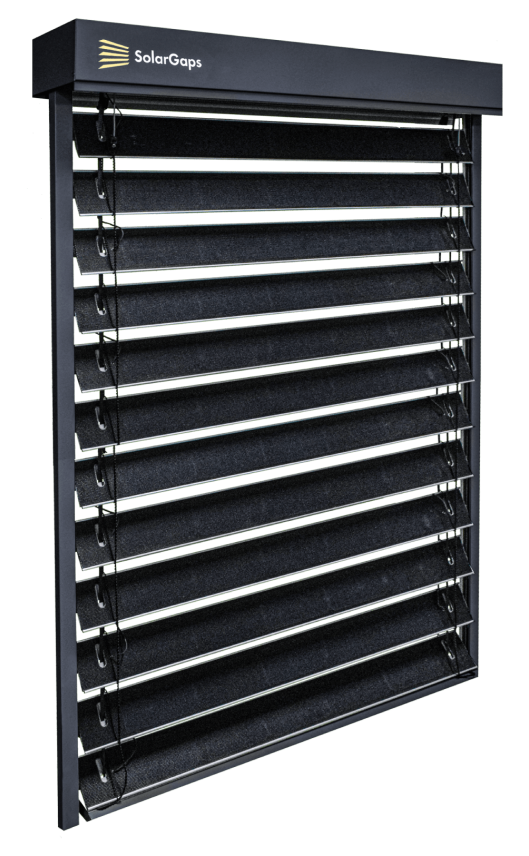 • OPERATE FROM -20°C UP TO 60°C
• ONLY EXTERNAL INSTALLATION
• WIND RESISTANCE
• DURABLE STEEL CABLE
• FULLY RETRACTABLE
• 2 YEARS OF WARRANTY
• 10 YEARS MIN LIFESPAN
• TESTED WITH AIR GUN
The SolarGaps system consists of solar panels connected by a durable steel cable or by rigid guides to ensures secure attachment, even when the wind is strong. These facade blinds fully retract for a clean appearance and are protected by a headbox. The length of the wire provided corresponds to the window height plus an additional one and a half meter. The system is connected to the electrical grid through the inverter that transforms solar power into electricity. This, in turn, means the amount of energy used from your electrical providers will be reduced by the amount of electricity generated by the blinds. The operating temperature of SolarGaps blinds ranges from -20°C up to 60°C at the relative humidity of 20% and from -10°C up to 40°C at a humidity of 80% correspondingly. In the case of severe weather conditions, the blinds should be fully retracted. Strong metal blinds will protect your apartment from burglars while mobile app account protection makes these smart blinds pointless to steal. The warranty of SolarGaps is two years, with a lifespan of at least ten years.
Blinds come in a variety of colors. Visit our gallery to see how SolarGaps looks once installed.
• SUNPOWER SOLAR CELLS
• EFFICIENCY 22.4%
• 100W PER 1 SQM PER HOUR
• SELF-CLEANING ETFE COATING
• 25 YEARS LIFESPAN
• SWISS ALUMINIUM SLATS
We always choose what is best for our product and that is why we use SunPower C60 solar elements made of laminated monocrystalline silicon cells with 22,4% efficiency.
Embedded in the swiss aluminum panels, SunPower solar elements with ETFE coating allow the solar panels to reach 100 Watt capacity per each 1 sqr meter during the daytime. The surface of the solar elements is designed to ensure easy cleaning when it is necessary, even though most of the dirt is being washed off naturally by rain and snowmelt.
The lifespan of solar panels is at least 25 years. However, it doesn't mean that your PV panels will become completely worthless, it just means that after two decades of usage the efficiency of solar panels will slowly start to decrease. Usually, solar panels degrade by about 1% each year and it is quite common for a 20-year-old, high-quality solar cells to perform at 80% of their original productivity.
• iOS AND ANDROID
• SMART HOME INTEGRATION
• REMOTE ACCESS
• PERFORMANCE REPORTS
• VOICE CONTROL
• SMART FEATURES, E.G. ALARM CLOCK
You can get all the benefits of using SolarGaps smart external blinds with an easy-to-use app, available for Android (4.4 and up) and iOS (11 and up). SolarGaps facade blinds will be connected to your smartphone through Wi-Fi.
For the SolarGaps app to work flawlessly, high-quality signal with a speed of no less than 1 Mbps is required.
Regardless of where you are in the world or how far away you are from home, you can still control the position of the slats.
This feature will help you to make it look like you have never left your home so this way no one will try to break in and it is useful if you urgently need to retract your blinds if a storm or blizzard is approaching.
You can get reports and control the blinds with your smartphone or integrate it into your smart home system as it is fully compatible with Amazon Alexa and Google Assistant.
Your smart blinds, therefore, will not only generate photovoltaic energy but also wake you up in the morning and keep your apartment private at night.
• STURDY AND DURABLE MOTOR
• SPEED 24 REVOLUTIONS PER MINUTE
• CONTROLLED BY ELECTRONIC MODULE
• OPERATES FROM -20 TO 70°C
• QUIET OPERATION (50 DB)
Electronic management device (EMD), invented by SolarGaps, is responsible for the slat position, enabling a "smart tracking" feature, and controls electricity generation, as well as transmits data from the blinds to the cloud platform and mobile application.
To fulfill these functions most efficiently we use a high-quality Somfy motor to work in connection with theSolarGaps EMD. The sturdy Somfy motor is powered by electricity operating in -20°C temperatures.
As the system is mounted outside, the level of noise produced by the motor is ultra-low and will barely be heard from inside. As the system is connected to the electrical grid, the motor is being powered by electricity, which enables its operation in low temperatures.
The motor's power consumption is insignificant comparing to the amount of energy that is being generated by the solar panels of SolarGaps blinds.
• TRANSFORMS SOLAR ENERGY TO ELECTRICITY
• CONVERTS DIRECT TO ALTERNATING CURRENT
• HIGH AVERAGE EFFICIENCY OF 95%
• GLOBALLY CERTIFIED FOR C-ETL-US, SAA, TUV, ETC
• MINIMAL INPUT VOLTAGE 24V
• DESIGNED IN USA
• NO NOISE EMISSION
The direct current (DC) energy generated by a solar panel is not useful on its own as most households and offices using alternating current (AC). A solar inverter or a photovoltaic (PV) inverter converts DC energy into AC energy for powering appliances connected to the grid.
SolarGaps system is connected to your home electrical grid or to the battery storage through the certified micro inverter that makes solar energy compatible with it.
The inverter is sold separately but is provided already attached to the system so that you only have to plug in the SolarGaps system before the solar energy will power your devices and home appliances.
The high-quality inverters we chose for our smart solar blinds are practically silent and do not produce any noise emission. Our customers often choose to attach their inverters in the hidden place, like under the windowsill.
MOBILE APP
Control entire functionality from any location
Monitor the statistics of generated energy
Receive performance reports, set up scenarios
APP+SWITCH
EnOcean® wireless protocol up to 30m 
Self-powered, no batteries or wires required
Can be combined with SolarGaps application
REMOTE
Radio Technology Somfy® (RTS) up to 18m
Compatible with RTS control accessories
Control up to 5 blinds/groups of blinds
MANUAL
Manual control winding crank handle
Off-grid for complete energy independence
Easy removable, available in black and white
WALL SWITCH
Reasonable solution, Wi-Fi is not required
Simple&stable wire switch to control position
Perfect fit for public sector buildings